This article is on the spin-off to Cheers called Frasier.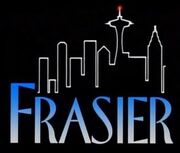 If you were looking for the character, please see Frasier Crane.
Frasier is the name of a sitcom which is the spin-off and successor to Cheers. In it, Frasier Crane moves to Seattle to pursue a job as a radio psychiatrist. The show consists of him, his father Martin (John Mahoney), brother Niles (David Hyde Pierce), Martin's physical therapist Daphne Moon (Jane Leeves), and the producer of his show Roz Doyle (Peri Gilpin).
Although all living major characters of Cheers had an appearance in Frasier (except Kristie Alley), the only one that appears in more than one episode is Frasier's ex-wife Lilith.