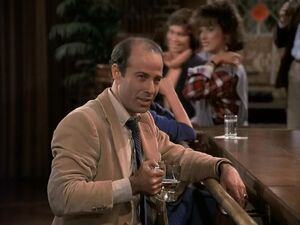 Lawrence Burton (Larry) Harpel was born 23 May, 1950, in Boston. He was a graduate of Boston University in 1972.
According to IMDb, he was at the original Woodstock festival in 1969.
Harpel got his start in community theatre. Aside from playing Larry on Cheers, he also guest starred in one episode of the sitcom "Amen".
Larry also worked as a dialogue coach, for both "Amen" and "Hard Time on Planet Earth". He later became a writer and schoolteacher. His last job was as a schoolteacher at Pacific Palisades, California.
He was a divorcee.
He passed away in his sleep in Venice, California, on 17 October, 2005. He was buried in Cynthiana, Kentucky.