Melville's

Location

Directly above Cheers

Proprietor

John Allen Hill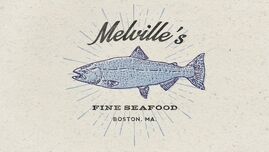 Melville's is the restaurant above Cheers. There are two egresses, one to the street and one that goes down to Cheers. Since season 9, the owner is John Allen Hill. We do not often see footage of Melville's, but verbal disputes often occurred betwixt John Allen Hill and Sam in Cheers. The episode centered around a lease dispute over ownership of the pool room area.
One of the key scenes of the series finale is shot at Melville's.
Ruben works there, among several waiters and chefs. Vic is named as the maitre'd in the episode "How to Win Friends and Electrocute People".
The interior is also shown in:
Season 7 Episode 1: How to Recede in Business
Season 7 Episode 21: Sisterly Love
Season 8 Episode 13: Sammy and the Professor
Season 9 Episode 15: Achilles Hill
Season 9 Episode 20: Crash of the Titans (the booths are removed from the set in this one)