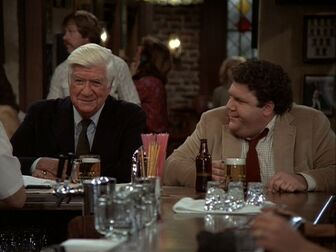 Thomas Philip O'Neill Jr., better known as "Tip", was a member of the U.S. House of Representatives for 34 years. A member of the Democratic party, he represented Massachusettes. For his final ten years in office, he served as Speaker of the House - the second-longest term at Speaker of anyone in American history.
O'Neill was initially elected to the House in 1952, taking the vacated seat for then Senator-elect John F. Kennedy. He was chosen Speaker in 1977, and served as Speaker during the Carter and much of the Reagan Administration. He retired in 1987.
His memoir, "Man of the House", was a national best-seller.
On Cheers
[
]
Tip showed up in the episode "No Contest", in the first season, He came into Cheers trying to avoid Diane, who was pestering him with her philosophy of governance and life. Unfortunately for Tip, he didn't know Diane worked at Cheers, so she ended up finding him there. Tip had apparently never been to Cheers, but he recognized Sam as a former pitcher for the Red Sox.
Sam shooed Diane away so Tip could enjoy a beer. Norm came back from the restroom, and took his seat by Tip, not noticing him. Cliff goaded Norm into criticizing the Congress, which Tip found amusing. Norm, after running his mouth a bit too much, realized who was sitting right by him and felt like a fool.
O'Neill was brought in as a publicitity stunt to raise the Neilson ratings for the struggling show - and it worked. The show jumped considerably in the ratings the week his appearance aired. When Cheers finally came to an end, O'Neill joked about his appearance in an interview with People:
"When they asked me to be on the show 10 years ago, I said no way, but [Cheers casting director] Stephen Kolzak, whose mother used to be my secretary, appeared at the L.A. airport when I was supposed to be going to the Bob Hope Classic Golf Tournament and just took me to the studio, so I did it. When I was on the show, it was rated something like 45th. Eventually, they were No. 1 or 2. I think I gave them a little lift."